Our latest book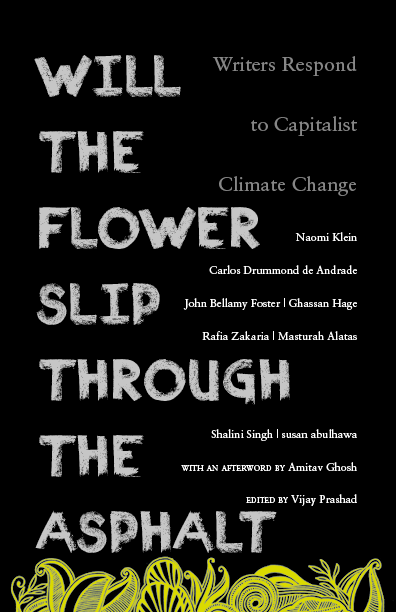 Will the Flower Slip Through the Asphalt: Writers Respond to Capitalist Climate Change

SERIES: Classics of National Liberation
Naomi Klein, delivering the Edward Said lecture, links the question of climate with the question of occupation (with Palestine as the focus). Klein points out that those who are 'othered' will be the first victims of the climate catastrophe. This volume collects Naomi Klein's superb essay, along with reactions from important writers living across the globe.
John Bellamy Foster and Ghassan Hage offer direct reflections on Klein's lecture, while other writers are spurred by Klein's insights. Rafia Zakaria takes us to the shoreline of Karachi, Masturah Alatas wonders about hijab and air-conditioning in Malaysia, Shalini Singh meanders through the climate wars in India, and Susan Abulhawa writes from the 'fossil fuel sacrifice zone' at Standing Rock (North Dakota, USA).  The book closes with Amitav Ghosh's meditation on nutmeg and cloves, leading to important insights into globalisation, interconnectedness and transformation.
For international shipping to destinations outside of South Africa, please email us on info@inkanibooks.co.za.
Praise for Will the Flower Slip Through the Asphalt
'With the earth and its inhabitants under more pressure than ever before, and with bona fide climate change deniers in the most powerful positions on the planet, reading this book is essential. It informs and inspires the actions that we all need to take to protect ourselves and our homes. Read it, and after you've wept, act.'
— Emma Thompson, actor
About the authors
Amitav Ghosh
Amitav Ghosh was born in Calcutta and grew up in India, Bangladesh and Sri Lanka. He studied in Delhi, Oxford and Alexandria and is the author of The Circle of Reason, The Shadow Lines, In an Antique Land, Dancing in Cambodia, The Calcutta Chromosome, The Glass Palace, The Hungry Tide, and the first two volumes of The Ibis Trilogy: Sea of Poppies, and River of Smoke.
Carlos Drummond de Andrade
Carlos Drummond de Andrade (1902–1987) was a Brazilian poet, whose poem, 'Canção Amiga', was on the 50 cruzado novo bill.
Ghassan Hage
Ghassan Hage is professor of anthropology and social theory at the University of Melbourne, Australia. He has held many visiting professorships around the world including at the American University of Beirut, L'Ecole des Hautes Etudes en Sciences Sociales, Paris, University of Copenhagen, University of Amsterdam and Harvard. His work includes White Nation, Against Paranoid Nationalism and Alter-Politics.
John Bellamy Foster
John Bellamy Foster is Professor of Sociology at the University of Oregon and editor of Monthly Review. His most recent books are The Endless Crisis (with Robert W. McChesney) and Marx and the Earth (with Paul Burkett).
Masturah Alatas
Masturah Alatas is the author of a tale about climate change, The Girl Who Made It Snow in Singapore and The Life in the Writing, a memoir-biography of Malaysian sociologist, Syed Hussein Alatas, who was also her father. Born in Singapore, she worked as a journalist in Malaysia before moving to Italy in 1992 where she teaches English at the University of Macerata. A regular contributor to Counterpunch, Masturah has completed a novel and is working on another.
Naomi Klein
Naomi Klein is a Canadian author and journalist who authored three landmark books – No Logo, Shock Doctrine: The Rise of Disaster Capitalism and This Changes Everything: Capitalism vs. The Climate, which Amitav Ghosh called 'one of the most important books of the decade.' In 2016, Naomi won the Sydney Peace Prize for her work on climate change. Her book Fences and Windows was published by LeftWord Books in 2002.
Rafia Zakaria
Rafia Zakaria is a columnist for Dawn (Pakistan) and the Boston Review's 'Reading Other Women' Series. She is the author of The Upstairs Wife: An Intimate History of Pakistan and Veil. She has written for The New York Times, The Guardian, The New Republic, The Nation, Guernica and various other publications.
Shalini Singh
Shalini Singh is a Delhi-based journalist, who has written for The Week and the Hindustan Times. In 2012, she won the Prem Bhatia Award for excellence in environmental reporting. Shalini is a founding trustee at the People's Archive of Rural India. In 2013, she was described by Elle as 'a headliner, one of journalism's new guard that asks difficult questions, risks life and limb, and will stop at nothing for the truth.'
Susan Abulhawa
Susan Abulhawa is a Palestinian novelist and poet. Her most recent novel, The Blue Between Sky and Water, is an international best seller, translated into 28 languages. She is also the founder of Playgrounds for Palestine, a volunteer organisation dedicated to upholding the Right to Play.
ISBN:
PRICE: R100.00
On Inkani
Inkani as an attitude, and a praxis for organising invigorates political resistance and we take inspiration from it as a publisher.
In elite spaces the isiZulu and isiXhosa word 'inkani' usually refers to a form of stubborn determination. Sometimes reference is made to its past martial connotations. In recent years the term has made a decisive entry into the politics of the oppressed where it is invariably given a different meaning. The connotation of stubborn resolve remains but, across the country, it is invariably defined as meaning 'by force'.
There are also other forms of collective work aimed at nurturing and sustaining inkani, such as commitments to share work and knowledge of various kinds, and to cook and eat together. Inkani as a personal and collective attitude in opposition to oppression speaks powerfully to the spirit of the times in which Inkani Books exists. Our books will certainly aim to speak to crucial liberation struggles of the past as well as the present, but we intend to do so with a clear commitment to offering resources to the struggles of the here and now.